On Monday 9th April, Zil Air had the pleasure of welcoming over 90 students from Plaisance School's primary three and four. The visit was part of the school's program aimed at teaching students the various means of transportation available.
"Zil Air has hosted several of these school trips over the years and the team was pleased to host yet another today. For us this is a great opportunity to not only share our knowledge and passion, but to hopefully inspire the next generation of Zil Air pilots, engineers and managers," said Mr. Savy, Zil Air's Executive Director.
On this trip, students were welcomed in groups. Each group had the opportunity to experience firsthand what it feels like being buckled up in both the Airbus EC-120 and EC-145 helicopters. Safety procedures involving headsets and life jackets were also part of the exchanges, thus a high focus on the safety aspects of operating in and around helicopters. The students also got to witness a live helicopter landing and take-off, from a safe distance, which generated quite a wave of excitement.
The tour concluded with group photos of the Zil Air team, teachers and students.

Ms. Gena, Zil Air's Customer Service Supervisor takes the young boys and girls for a tour inside the Airbus EC-120.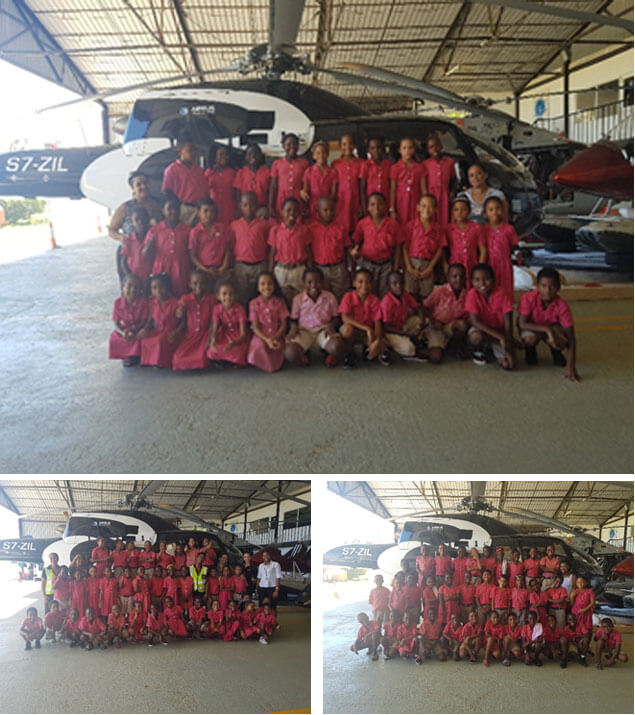 Group photos taken during the tour at Zil Air Base.
About Zil Air
Zil Air is the premium provider of aerial limo services in the Seychelles. We operate four state of the art Airbus EC 120B and one Airbus EC 145 Twin Engine Helicopter, alongside a twin-engine fixed wing Vulcan Air P68C.
With a modern commercial fleet, Zil Air offers visitors the ultimate in comfort and safety when travelling to over 30 helipads and 7 landing strips. Such great accessibility across the archipelago allows our guests to travel at their convenience be it for transfers to and from their luxury island resorts, scenic flights and excursions just to name a few.
Zil Air commenced Commercial Helicopter Operations on April 1 2009 and has since grown its fleet to 5 Helicopters and 1 plane operating 7 days a week supported by a young and dedicated team of 75 personnel.
Media contact: Ms. Valerie Lebon marketing@zilair.com +248 263 1744