The Seychelles Islands…another world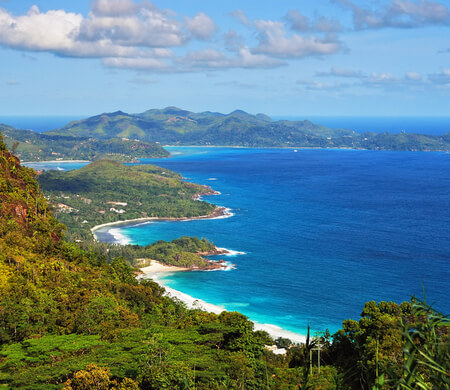 The name 'Seychelles' is famous the world over for its legendary beauty, rolling from verdant peaks, through primeval forests, down to powder-soft beaches framed by timeless granite boulders, where the only footprints you'll find will be your own.
This unique archipelago's 115 islands, set like precious stones upon 1.4 million square kilometers of azure Ocean, are located between 4 and 10 degrees south of the equator. Here, 42 granitic islands cluster around the principal islands of Mahé, Praslin and La Digue while the coral islands, more numerous still, exten'd in a gleaming arc towards the shores of East Africa.
Where we fly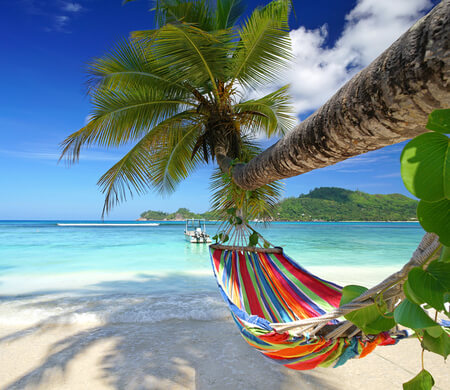 These islands enjoy a glorious tropical climate all year round and, with all but its remotest, uninhabited islands lying well outside the cyclone belt, there are no extremes of weather. In this balmy, tropical heaven the temperature seldom drops below 24 degrees, or rises above 32 degrees centigrade.
Against a backdrop of sublime natural beauty, safety and tranquility, the Seychelles Islands also offer an amazing degree of diversity and the possibility of enjoying a wide range of island experiences and tropical adventures. Between 15 minutes and one hour's flying time from the principal island of Mahé, several select island getaways offer accommodation in stylish 5-star resorts or cocooned within the homely comforts of rustic, beachfront lodges.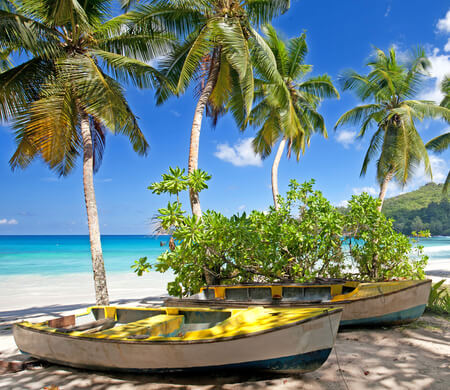 Seychelles is just the place to experience the thrill of a deep-sea fishing expedition and the chance to pit your skills against such spectacular denizens of the big blue as sailfish, tuna, streaker, wahoo, barracuda and the mighty marlin. There is also the opportunity to enjoy what is widely regarded as some of the best fly-fishing on earth, upon the shimmering flats of the Outer Islands where record bonefish and trevally beckon.
Since time immemorial, Seychelles has charmed successive generations of sailors with its rugged beauty, enticing them with easy sailing distances between the islands; luring them to safe moorings and to the privacy of its myriad hidden coves and secret beaches. Wondrously little has changed for today's sailors who may still enjoy the ultimate freedom of discovering the isles at their own whim and pace aboard any one of the state-of-the-art vessels that comprise the local charter fleet.
When it comes to diving, the Seychelles waters represent nothing less than a tropical aquarium where a dizzying array of fish and colourful corals await the diver who dreams of taking the plunge where few have yet ventured and where it's still possible to swim alongside whale sharks, mantas and dolphins in friendly, crystal-clear waters.
Snorkelling the underwater world is equally rewarding and, for the arm-chair explorer, there's always a semi-submersible, a glass-bottom boat ride or a fish-feeding excursion into one of the marine parks. For those wishing to explore the islands' walks and trails, the many guided walks available are sure to leave you wondering at Nature's bounty as you discover some of the rarest species of flora and fauna on earth.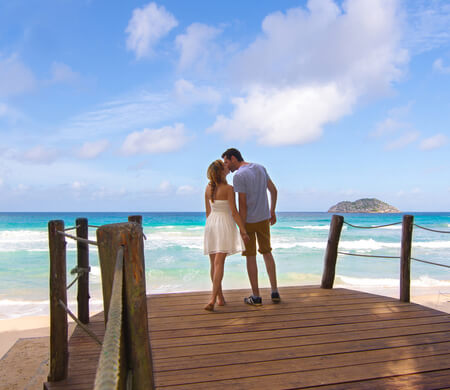 Seychelles is also an ideal place to hire a car – or a bicycle – and embark on personal voyages of discovery that will take you from quaint galleries, craft shops, old Creole-style plantation houses to scenic viewpoints, natural wonders and charming out of the way restaurants where to savour the diverse delicacies of Creole cuisine.
You may even decide to make a date with destiny and marry, honeymoon or celebrate an anniversary in the unique romantic ambience of these 'islands of love.' Whatever you choose, the Seychelles Islands are sure to lend substance to your fantasies and breathe life into your dreams of the ultimate in tropical lifestyles.
Find out more about destination Seychelles!
Hi, need some help?
Please click on the 'Contact Us' tab below and a member of our team will assist you!
Contact Us