Zil Air's latest fleet addition touches down at Seychelles International Airport.
The P2012 Tecnam Traveller S7-ADM, commanded by Captains Gerhard Geyer, John Rachel and Anthony Hoareau, departed the Tecnam factory in Italy this last weekend on a 4,500 nautical mile journey to Seychelles.
The delivery flight flew over Italy, Greece, Egypt, Sudan, Kenya and Tanzania to finally reach Seychelles.
Zil Air's Executive Director, Mr Francis Savy remarks "The brand new Traveller has been in design and development for a number of years. Good things take time and final result is an aircraft answering all Zil Air's operational requirements and it was purposefully tailored for Seychelles operations''
Comfortably accommodating nine passengers with two crew, the Traveller, is a new generation piston powered twin engine, high wing, fixed landing gear aircraft. The introduction into the Zil Air fleet provides our customers with cost-effective and varied configuration options, whilst always offering experiences discerning travellers expect, such as air-conditioning, in-seat power, decent leg room and under-seat storage space.
Cutting edge avionics by Garmin offers pilots all the information they require for day and night operations, making night operations to equipped airfields another key factor in the choice of aircraft.
The Traveller offers multi role opportunities including Hydro, VIP, cargo options, parachuting and medevac services, and Zil Air is working closely with Tecnam to implement the latter.
Tecnam embraced Zil Air as a partner from day one, and our team worked alongside Tecnam to customise this brand new aircraft to meet our exact requirements. As of date, this makes Zil Air the second world-wide Operator, and the only one outside the USA, to offer the Traveller in Commercial Operations.
We are proud of our team and their tireless efforts to ensure the aircraft landed in Seychelles ready to commence operations in December 2019. S7-ADM was added to Zil Air's AOC (Air Operators Certificate) last week by the SCAA, another milestone entirely driven by our in-house team.
Team Zil Air extends its appreciation and thanks to all stakeholders, the Government & People of Seychelles, the SCAA, Team Tecnam, Mauritius Commercial Bank, Zil Air Staff members and last, but not least, our Business partners and Customers who have been at the centre of our growth & development since we opened for business.
The induction of a modern aircraft into our fleet re-enforces Zil Air's commitment to safety and to continuing safe operations serving our customers and employees alike. We remain committed to providing the highest aviation operational and safety standards. We continue to offer "more than just a flight" from all at Team Zil Air.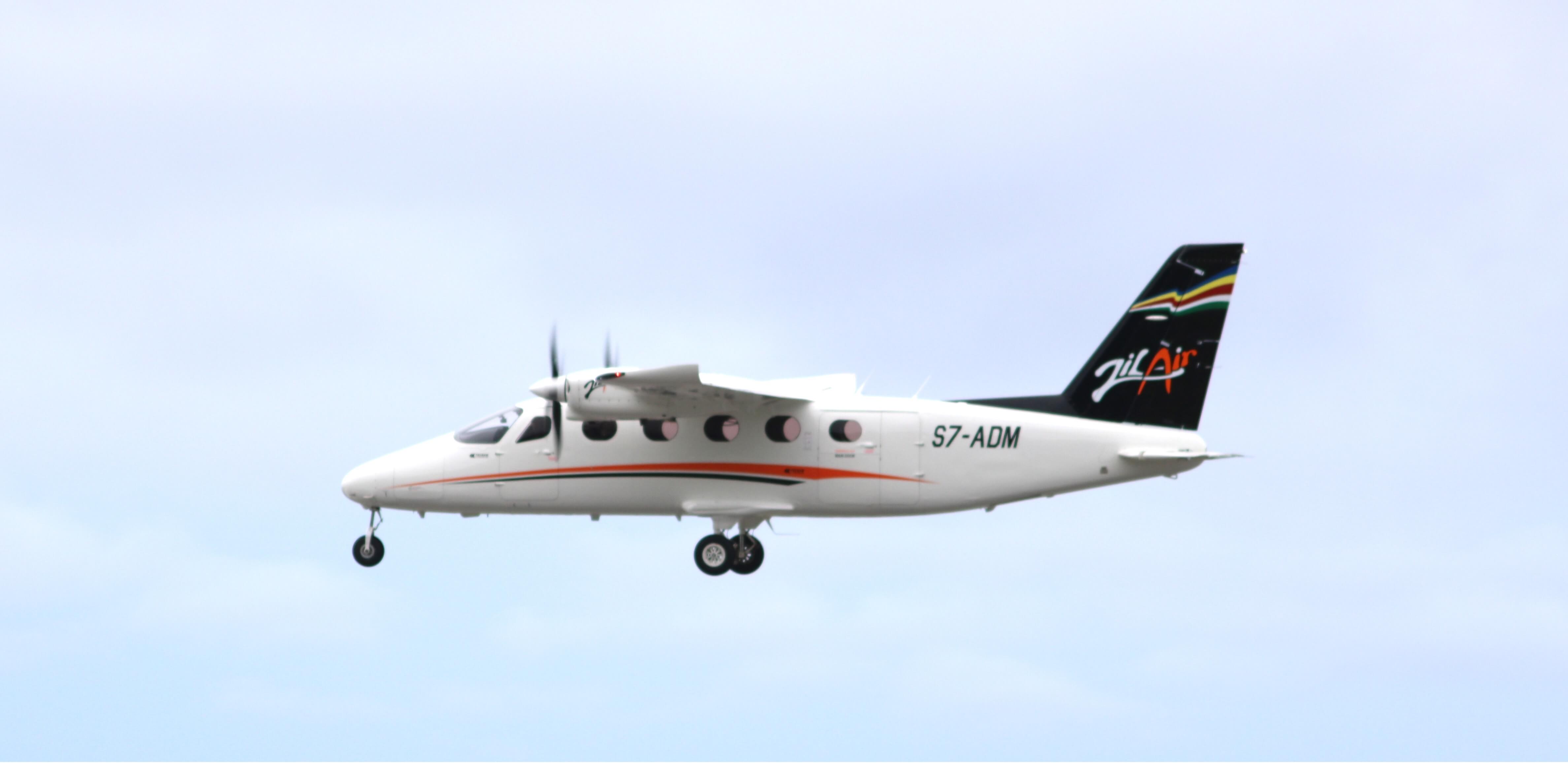 ADAM's fly-past before landing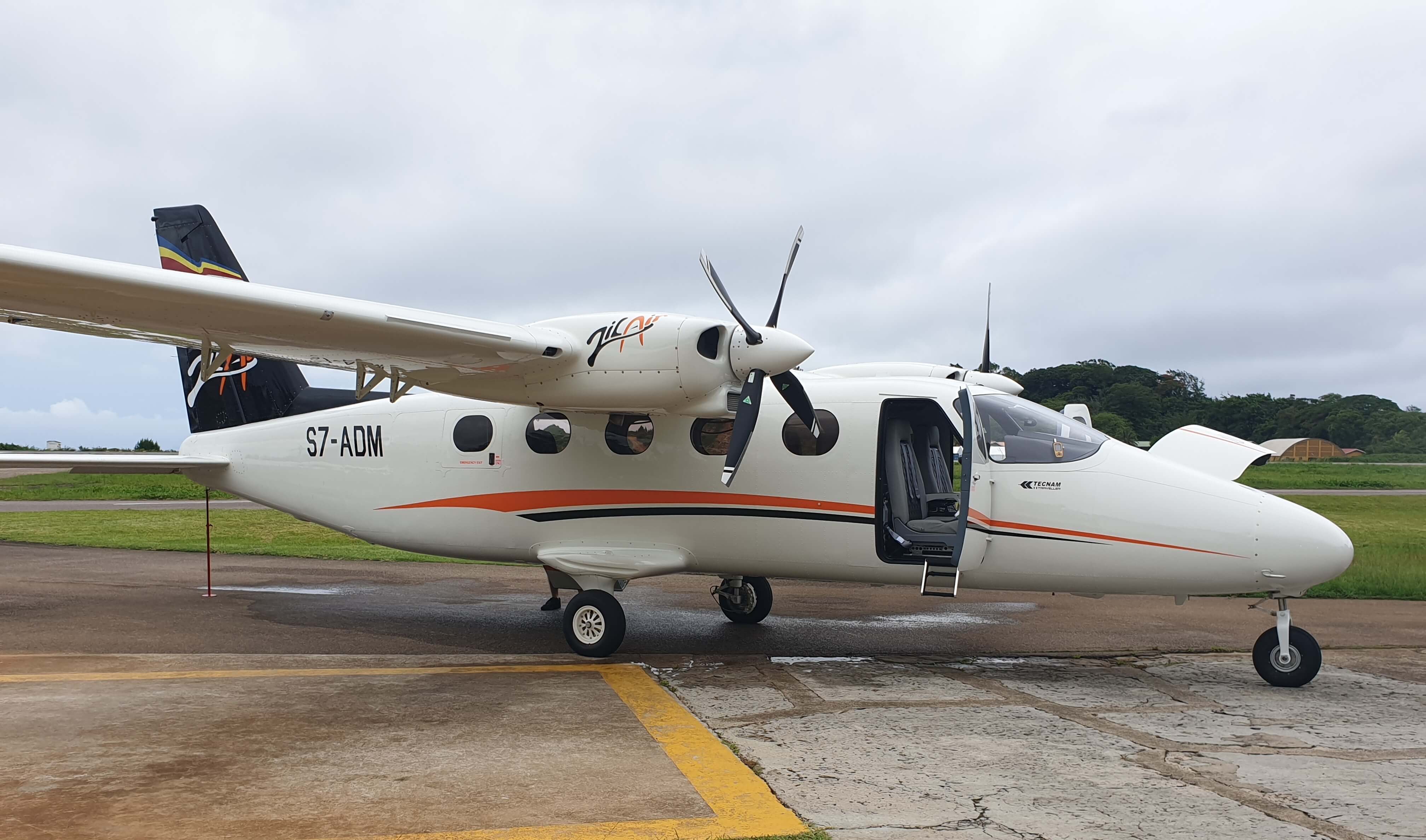 ADAM's arrival at Zil Air base
For more information about Zil Air and its services please visit www.zilair.com
Media contact: Ms. Tara Pillay marketing@zilair.com +248 263 1744
About Zil Air
Zil Air is the premium provider of aerial limo services in the Seychelles. We commercially operate a mix fleet of Rotor and Fixed Wing Aircraft, namely; Five state of the art Airbus H-120, One Airbus EC 145 Twin Engine Helicopter, A twin-engine fixed wing Vulcan Air P68C, the newly added Tecnam P2012 Traveller & a King Air 250 under private management.
With a modern commercial fleet, Zil Air offers visitors the ultimate in comfort and safety when travelling to over 30 helipads and 7 landing strips. Such great accessibility across the archipelago allows our guests to travel at their convenience be it for transfers to and from their luxury island resorts, scenic flights and excursions just to name a few.
Zil Air commenced Commercial Operations on April 1 2009 and operates 7 days a week supported by a young and dedicated team of 85 personnel. Zil Air runs its very own MRO (Maintenance Repair Organization).
About Tecnam: "Quality aircraft since 1948"
For over 70 years Tecnam has been committed to serving the General Aviation community.
Be it the 6th generation Tecnam P92, the best-selling P2002 or the P2006T Twin, Tecnam are firmly established as the aeroplanes of choice with General Aviation customers and operators. Be they private pilots enjoying flying for leisure or some of the world's leading Flight Training Organisations.
The introduction into service of the P2008 and the next generation four-seater, single engined P Twenty Ten, ensures that Tecnam continue to offer the widest range of General Aviation aeroplanes. Today with the P2012 Traveller, Tecnam will offer an innovative aircraft for regional airlines.
With over 7,500 Tecnam aeroplanes operating around the world today, Tecnam customers and operators are supported by a global network of over 60 dealers and more than 125 Tecnam Service Centres.
The Tecnam teams passion for flying has undoubtedly resulted in Chief Designer, Professor Luigi Pascale, creating some of the most innovative and stylish aeroplanes. More importantly Tecnam's wide range of aeroplane models afford its customers and Operators superb value for money, from the low initial purchase price to unbeatable operating costs.
About Zil Air's Tecnam P2012 Traveller
Key Features
Fully air-conditioned.
Seats offering excellent leg space and uninterrupted views from each window.
Twin engine aircraft equipped with autopilot and capable of instrument flying and night operations.
Capable of landing on both hard runways and grass stripes.
Dedicated Luggage and Cargo bays offering a total of 2.13 cubic meters of storage space.