Zil Air, the premium provider of aerial limo services, has today announced its order for a Tecnam P2012 Traveller aircraft.
The arrival into service of the next-generation 11 seat P2012 Traveller has been highly anticipated by many air passenger operators, who have been demanding a replacement for the many hundreds of 'heritage' aeroplanes in the FAR23/CS23 category, which are currently in service around the world.
"We are delighted with the number of orders and the wide range of customers we have received the eagerly anticipated P2012. This next- generation aircraft will deliver to operators not only profits, but reliability, efficiency and off course passenger comfort," said Paolo Pascale, Tecnam's CEO.
 "The Tecnam P2012 Traveller is the perfect aeroplane to help our business grow and enables us to meet the Seychelles' tourism sector's demand for affordable and reliable air access," said Francis W. Savy, Zil Air's Executive Director.
In the spirit of sharing destination Seychelles' uniqueness to guests, Zil Air shall be registering the aircraft as S7-ADM, (short for ADAM) joining its 'sister' aircraft, the P68 Vulcan Air registered as S7-EVE; telling not only the story of the Vallee de Mai renowned as being the true Garden of Eden but as much the love & passion for what we do at Zil Air.
Equipped with latest avionics from Garmin, the new G1000 Nxi and powered by two 375 HP Lycoming piston engines, the Tecnam P2012 Traveller will first see service as a passenger aeroplane with US based Cape Air in early 2019, but has been designed from the start to be a very versatile and flexible aerial platform, offering many multi role opportunities including Hydro, VIP, cargo shipping, parachuting and medevac services all of which are well aligned to Zil Air's operations.
Zil Air is expected to take delivery of its first P2012 in July 2019, and will launch commercial operations later in the same year. Together with Tecnam, Zil Air will, in the following year, consider extending its purchase to a second P2012 aircraft in its quest to ensure reliable and sustained services to the many we serve.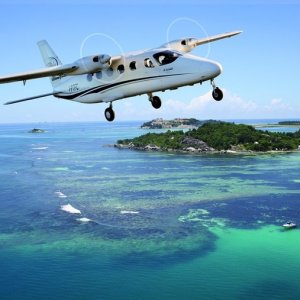 A graphical impression of the P2012 aircraft soaring over the Seychelles seas.
About Zil Air
Zil Air is the premium provider of aerial limo services in the Seychelles. We operate four state of the art Airbus EC 120B and one Airbus EC 145 Twin Engine Helicopter, alongside a twin-engine fixed wing Vulcan Air P68C.
With a modern commercial fleet, Zil Air offers visitors the ultimate in comfort and safety when travelling to over 30 helipads and 7 landing strips. Such great accessibility across the archipelago allows our guests to travel at their convenience be it for transfers to and from their luxury island resorts, scenic flights and excursions just to name a few.
Zil Air commenced Commercial Helicopter Operations on April 1 2009 and has since grown its fleet to 5 Helicopters and 1 plane operating 7 days a week supported by a young and dedicated team of 75 personnel.
Media contact: Ms. Valerie Lebon marketing@zilair.com +248 263 1744.