Zil Air is inviting visitors to explore its revamped website at www.zilair.com. The primary goal during this redesign process of the website was to create more valuable, user-centric content and responsive resources across all platforms and devices. The new website will allow users to understand Zil Air's various product offerings in its totality and be able to easily locate valuable information such a payload and flight routes, not only from their desk but on various mobile devices.
"We are very excited about this launch and how the engaging content on the site will impact our customers and business partners alike," said Mr. Francis Savy, Zil Air's Executive Director. "We have seen consistent incremental growth in terms of our direct bookings over the years, and having a modern, fully responsive website is another step in complementing that growth as well as part of our strategy to grow and increase our digital presence."
The website features a user-friendly booking process, where everything from scenic flights to transfers can be secured. A new addition to the site, is the digital gift voucher section, which will facilitate what was once a manual process to be done directly through the web. In addition, connectivity to Zil Air's social media assets has also been strategically placed throughout the website so that users may share content as well as simply 'follow' the company. Another important feature was for the site to be fully-equipped with the latest in search engine optimization (SEO). This will strategically equip Zil Air's website with the technology and best practice to rank higher in search engine queries for existing and potential customers.
The website will be regularly updated with news, offers and new product additions.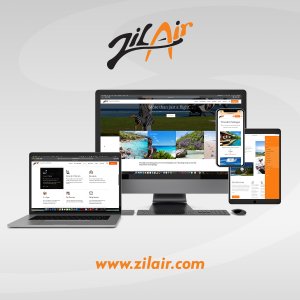 About Zil Air
Zil Air is the premium provider of aerial limo services in the Seychelles. We operate four state of the art Airbus EC 120B and one Airbus EC 145 Twin Engine Helicopter, alongside a twin-engine fixed wing Vulcan Air P68C.
With a modern commercial fleet, Zil Air offers visitors the ultimate in comfort and safety when travelling to over 30 helipads and 7 landing strips. Such great accessibility across the archipelago allows our guests to travel at their convenience be it for transfers to and from their luxury island resorts, scenic flights and excursions just to name a few.
Zil Air commenced Commercial Helicopter Operations on April 1 2009 and has since grown its fleet to 5 Helicopters and 1 plane operating 7 days a week supported by a young and dedicated team of 75 personnel.
Media contact: Ms. Valerie Lebon marketing@zilair.com +248 263 1744.